Saved Vehicles

[

00

]
Welcome to My Garage, the modern way to utilize car inventory searches and make it easier for you to collect your vehicles of interest. Now you can personalize your vehicle search with cars that you have recently viewed and saved. If you sign up for our Alerts tool you will be notified by email when a price has been changed or the car has been sold. Our Auto Locator tool will also notify you when a vehicle you are searching for has been added to our inventory. We hope you enjoy using our My Garage tool.
Recently viewed (0)
No viewed cars.
Year


Make


Model




Print
---
Chiron Pur Sport – The Purest Bugatti Ever
Pure driving and pure adrenaline: BUGATTI is proud to introduce the CHIRON PUR SPORT– a substantial and bold evolution of the CHIRON concept "Form follows performance", making it the most agile and uncompromising CHIRON ever. Significant technological improvements on the chassis, gearbox and engine push the physical boundaries and the limits of driving dynamics once again further. More radical, more aggressive and more dramatic, the CHIRON PUR SPORT is BUGATTI's pinnacle of driving dynamics, enabling straightforward handling on winding roads and providing an impelling thrill behind the wheel. A "Pur Sang d'Automobiles" through and through!
---
Unrivalled Performance
The Chiron Super Sport 300+ bodywork has been extended and aerodynamically optimized for extremely high speed performance. The perfect balance between low drag and downforce improves performance and stability, even at speeds over 420 km/h. The iconic W16 8.0-liter engine now delivers an output of 1.176 kW/1.600 HP, exceeding the Chiron by 100 HP.
Interior
Essential and pure design meets timeless style and elegance: The interior of the CHIRON PUR SPORT stuns with a new two-tone "Alcantara" in the door panels, creating a certain three-dimensionality and accentuating the bold character of this awe-inspiring driving machine.
General
Though still a Beauty, the CHIRON PUR SPORT has way more Beast to it. Its more immediate chassis set-up focuses on sharper handling and driving dynamics through challenging and curvy roads for pure driving thrill.
Engine
In the CHIRON PUR SPORT, the iconic BUGATTI W16 engine received an elaborate enhancement, resulting remarkable improvement in elasticity and acceleration. With the rev band increased from 6.700 to 6.900 rpm and a quicker throttle response, the CHIRON PUR SPORT pushes the limits of dynamic driving even further. Shorter means quicker: to provide even more spectacular acceleration and elasticity, 80% of the gearbox was redesigned and optimized for a short gear ratio. All 7 gears were shortened by 15%. Ensuring the optimal power band the engine at every speed. As a result, the CHIRON PUR SPORT accelerates in 6th gear from 60 to 120 km/h almost two seconds faster than the already lightning-fast CHIRON
Chassis & Suspension
The suspension of the chassis was prudently improved for better lateral acceleration and a more engaging and compelling driving experience. With 65% stiffer springs at the front and 33% at the rear, new dampers with a firmer setting, new bushes and additional carbon stabilizers in the front and back the CHIRON PUR SPORT provides quicker and more direct steering reactions, profound precision, better grip in corners – even at astonishingly high speeds.
Wheels & Tires
Each of the CHIRON PUR SPORT magnesium wheels are 4kg lighter and optionally equipped with innovative carbon aero wings to improve cooling and airflow. Cutting the weight by a total of 16 kilograms results in a lower kerb weight and also reduces the unsprung masses of the already ultra-light BUGATTI wheels. New Michelin Pilot Sport Cup 2R tires take the already massive mechanical grip of the CHIRON PUR SPORT into new dimensions.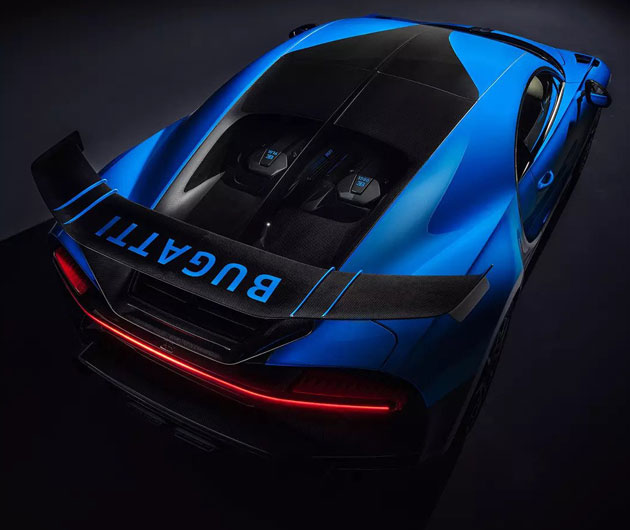 ---
Maximum Power
1,500
Hp
at 6,900 rpm
Maximum Speed
218/span>
mph
350 km/h
---